Full article available from Echoview
What was your motivation for writing the article for Frontiers for Young Minds?
As an undergraduate student of marine science and a non-native speaker I used to struggle focussing when reading scientific textbooks and articles and sometimes still do. Often this has to do with the over-complicated language we researchers use and our convoluted detailed way of explaining sometimes quite straightforward things. Interestingly enough, once I sat on the other side of the table and started to write about my own research, I myself started to write in a way that is hard to follow for anyone not working in the same or similar field. That's of course quite normal because most of the time we do actually need to provide a lot of detailed information to our peers about our studies.
However, I also started to notice that I was struggling to explain to my friends and family what my work is about and why it is so important. While for me this felt quite alienating the much bigger issue here is that we are not able to inform people outside our field and especially kids about our findings which consequently makes them quite meaningless in the grand scheme of things.
Luckily, this is now changing and we live in a time where scientists are encouraged to engage with stakeholders and the public and there is a lot more training for us to learn how to do that. The Frontiers for Young Minds journal is a perfect example for this.For me in particular, it is important to involve young researchers and kids in the work we do as they are the future of our planet and have a right to know and influence now what will happen with it in the future.— Dr Alina Wieczorek
Especially issues like overfishing, climate change and ocean pollution are important future challenges which today's kids will have to face. For that reason, I was quite keen to explain to them how we assess fish stocks using acoustics and how and why it is important to run a sustainable fishery while also highlighting some of the "pitfalls" and issues we encounter.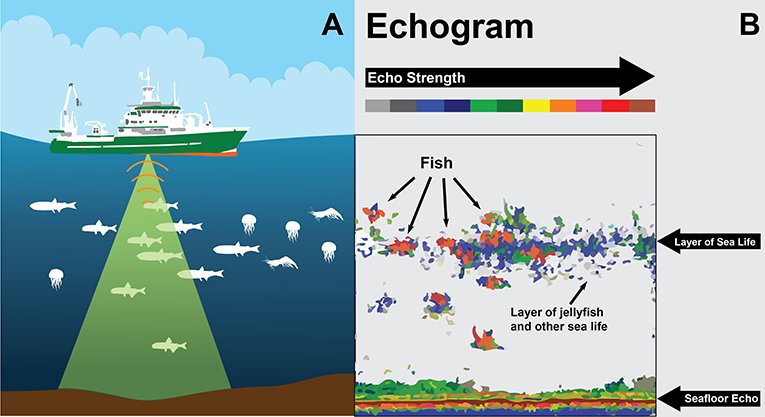 How are kids responding/reacting to it?
It was extremely helpful and entertaining to read the reviews of the kids. They quickly highlighted all the parts which were too complicated and sometimes actually not important for the overall story. The article was aimed at kids a little older than those who reviewed our article and I was fascinated that even those younger kids were able to follow it seemingly without a problem. This showed me how much we sometimes underestimate the capability of kids in learning about something new.
One other thing I became aware of was all the jargon we use in the scientific world. Sometimes it was a real struggle to find more kid-friendly words or ways of explaining something. Writing this article together with Amanda has been so helpful here as we could exchange on this and she always had great ideas which in the end made it possible to describe quite complex science in a kid-friendly way. What I loved was the humour and funny and direct comments of the kids. I realised that I miss this a lot in my everyday work life and even though I know that the research we do is important and often around serious issues, I do think that we should bring a bit of that back into our lives.
What do you think acoustic scientists should focus on over the next few years that will help the next generation of scientists?
Being an acoustician right now is super exciting as we now have so much technology available to us.— Dr Alina Wieczorek
There are many new instruments available to us now but there is also a real shift in the way we analyse acoustic data through automated processes for instance. In order to utilise these technologies to answer important scientific questions we will need to collaborate with one another and people outside of our field more closely and make acoustic science more accessible to everyone and in particular the next generation.
What advice would you give for kids wishing to become a scientist?
Find a subject or research field that truly fascinates you and don't ever do anything because you think you should do it or have to do it. Becoming a scientist involves a lot of hard work and dedication and therefore can be tough at times so it is important to study something which really interests and fascinates you. Never be afraid to ask questions, don't let anyone tell you that you can't do something and always focus on the solutions and not the problems.